EXTRAORDINARY YEARLING FILLY
Sold
Onke fan Bonnie View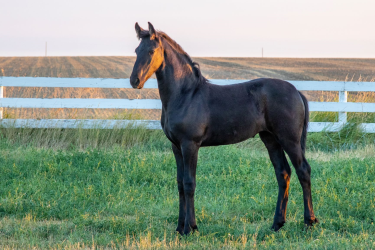 Ad Details
| | |
| --- | --- |
| Price: | $15000 |
| Date Of Birth: | May 10, 2020 |
| Lifenumber: | 202003333 |
| Name: | Onke fan Bonnie View |
| Fathers Name: | Tjaarda 483 |
| Mothers Fathers Name: | Mintse 384 |
| Mothers Name: | Tonke fan Bonnie View |
| Gender: | Mare |
Description
Curious, intelligent & compassionate filly.
Onke fan Bonnie View likes attention and will approach you in the pasture to get her halter put on.
She is good in the cross ties with grooming (vacuum) and farrier.
Onke's dam, Tonke fan Bonnie View, has an eleven generations full paper behind her.
For more pictures visit www.bonnieviewfarm.com
Pedigree
Tjaarda 483

Stb Sport-Elite

Time 398

Stb

Fetse 349

Stb Sport

Feitse 293

Stb Preferent

Ordina B.

Stb Ster

Katinga

Stb Ster Pref Prest

Naen 264

Stb Preferent

Leonora

Stb Ster Pref

Daisy W.

Stb Ster Pref

Lolke 371

Stb Sport

Oege 267

Stb Preferent

Zwaantje F.

Stb Ster

Sanne v.d. Molenwijk

Stb

Fabe 348

Stb Sport Pref

Jesse v.d. Molenwijk

Stb Ster

Tonke fan Bonnie View

Stb

Mintse 384

Stb Sport

Leffert 306

Stb Sport Pref

Tamme 276

Stb

Bontsje

Stb Ster Pref

Jieldou

Stb Ster Pref Prest

Lammert 260

Stb Preferent

Wieskje

Stb Ster

Hotske fan Bonnie View

Stb Ster

Tjimme 275

Stb

Jochem 259

Stb Sport Pref

Tjimkje

Stb Ster Pref

Popke fan Bonnie View

Stb Ster

Naen 264

Stb Preferent

Hitsje

Stb Preferent