Named after a President and Fit for a King
Lincoln PMF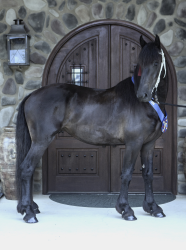 Ad Details
| | |
| --- | --- |
| Price: | $27500 |
| Date Of Birth: | March 31, 2019 |
| Lifenumber: | 201900912 |
| Name: | Lincoln PMF |
| Fathers Name: | Tjalbert 460 |
| Mothers Fathers Name: | Fridse 423 |
| Mothers Name: | Francisca W.W.F. |
| Gender: | Stallion |
Description
Lincoln P.M.F., Champion, 2nd Premium gelding currently being trained to 1st level dressage under saddle by the esteemed and highly decorated Marsha Sapp of Southern Oaks Equestrian out of Tallahassee, Florida. This horse has the eagerness to please and has been bred to perform well under saddle or in a harness as a driving horse. Lincoln is tall and regal, standing at just over 16.1 hh and he just turned 3 years old! His high head-carriage and his imperial, natural stance command the immediate attention of the most class-conscious of aristocrats.
A view from atop a high estate balcony to a distant field you will see Lincoln stand astute with his head held high, eyes bright and ears erect while he salutes you with his attention and you will have no option but to become entranced in his nobility.
Lincoln has already had some experience in the show arenas
during keurings a
t Jim Brandon Equestrian Center at West Palm Beach and the Florida Horse Park in Ocala, as the star of the show for Wild Horse Ministries in Alabama and while training under saddle at Southern Oaks Equestrian in Tallahassee. His calm demeanor has also allowed him to participate in horse clinics.
If you happen to be a warrior, you could take Lincoln into battle as he has even had someone shoot a gun off while on his back and he didn't budge!
Lincoln is cool tempered, with a warm and sweet face and kind disposition who is always eager to please his handler. His farriers have all commented on his great feet and legs. While lunging or under saddle you will notice his long reach in his walk and genuine high stepping action in his trot. His mane and tail are full and long for a 3-year-old. Both Lincoln's parents have much feathering so he will too within the next year or two. Lincoln will only get even more stunning with age as he is
"Fit for a King".
Lincoln of Pine Meadows Farm is currently at Southern Oaks Equestrian in Tallahassee and is for sale and ready to continue his life story with you.
Pedigree
Tjalbert 460

Stb AA

Beart 411

Stb Sport Pref

Jasper 366

Stb Sport Elite Pref

Olof 315

Stb Sport Pref

Antje ut de Mieden

Stb Ster Prest

Setske F.

Stb Ster Pref Prest

Feitse 293

Stb Preferent

Kingke

Stb Model Pref

Grevinne fan Lutke Peinjum

Stb Ster Pref Prest

Ulke 338

Stb Sport

Tjimme 275

Stb

Fabiolaa

Stb Ster Pref Prest

Ealfrou fan Lutke Peinjum

Stb Ster Pref

Melle 311

Stb Sport

Setske F.

Stb Ster Pref Prest

Francisca W.W.F.

Stb

Fridse 423

Stb Sport

Teunis 332

Stb Sport Pref

Gerlof 294

Stb

Gertruda

Stb Ster Pref

Lobke Y.

Stb Ster Pref

Nammen 308

Stb

Ewalien

Stb Ster

Sanne fan Beabuorren

Stb

Jurjen 303

Stb

Teake 273

Stb

Tiny

Stb Model Pref

Lutske v/d Trije Romers

Stb

Wypke 277

Stb

Moreau

Stb Model Pref